How often should i charge the rechargeable hearing aids?

Posted By
02 Feb 2022
0 Comment(s)
23729 View(s)
Hearing aids

Earlier all hearing aids were powered by disposable batteries. Some lasted longer, others less, but inevitably the user had to be aware of when to change them. But, just as our consumer habits in general were shifting towards products with rechargeable batteries, the world of hearing aids recognized the advantages that this new power technology would bring. Now, rechargeable hearing aids have been a dominant reality for several years, but a very common doubt still arises among users, even among those who have been wearing hearing aids for many years and are informed about this world and its novelties. Many people ask themselves: how often should I charge the battery of the hearing aids?
How long does the hearing aid battery last?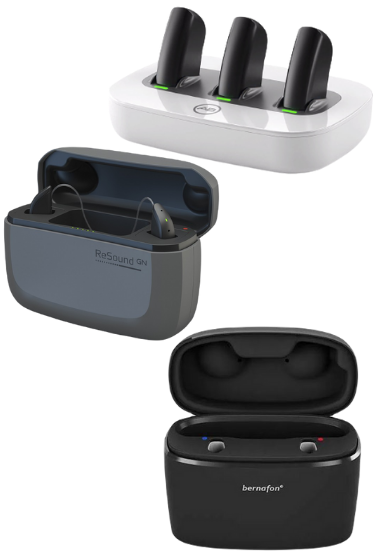 The lithium-ion batteries that power the hearing aids are designed to provide a full day of hearing, ranging from 20 to 24 hours of power. This time can also vary slightly depending on the brand of hearing aids and how much use we give to the Bluetooth connection, although it is not a really determining factor. Therefore, just as we have already become accustomed to charging our mobile every night when we go to sleep, the idea is that we do the same with the hearing aids even if we have not completely exhausted the charge.
The fact of charging the hearing aids every night gives us a great advantage as it ensures that we will have a good hearing the whole day without having to worry about whether we carry disposable batteries in case they run out. What if I'm a Little absent-minded?, you may be wondering. For your peace of mind, all chargers have a fast charging system that means that with a few minutes of recharging you can have a few hours of hearing. In addition, more and more manufacturers are opting to market chargers that also act as energy accumulators, such as the Resound or Bernafon travel chargers, thus allowing you to recharge anywhere without having to worry about plugs.
At Claso, we are in favor of this type of power supply for hearing aids since they provide a double benefit. On the one hand, from the user's point of view, they are more practical and easier to use. On the other hand, from the point of view of society, they generate less waste that is harmful to the environment, such as disposable batteries. With these types of hearing aids, we all win.