We open the doors of Paradise to you


Phonak has done it again. They always manage to surprise professionals and users when they present a new hearing aid and their new Paradise series has not disappointed in this regard. On this occasion, they have taken the excellent connectivity of their previous generation Marvel and have enhanced it; while they have incorporated surprising audiological improvements. This time, Phonak has focused on the main goal of hearing aids, understanding speech, and has done so by looking at two aspects: noisy environments and softer voices. Next, we tell you the news that Paradise brings.
On the one hand, we all know people who speak lower than normal who are difficult to understand, even if we are in a calm and quiet environment. To solve this problem, Phonak has created the Speech Enhancer. This system considerably enhances the sound of softer voices in those quiet environments by giving them more gain. In this way, you will not miss any secret that they tell you.
On the other hand, noise is always very annoying when it comes to understanding people and the Phonak Paradise present two novelties to solve it:
One of them is the Dynamic Noise Canceller which combines a powerful noise reducer with a new automatic directionality system. The great novelty of this system is that the user can change certain parameters of this system through the myPhonak mobile application and thus customize it to their liking.
The other novelty, and that we could qualify as the jewel in the crown of the new Paradise, is the Hearing Motion Sensor. As its name suggests, the Paradise include a motion sensor that detects whether the user is still or moving. This allows the hearing aids to adapt more easily and efficiently to the continuously changing sound environment that occurs when we are moving. With this system, the Paradise can achieve that the microphones focus on the speech of the person who is accompanying you precisely.

Beyond purely hearing matters, this motion sensor also enables Phonak to introduce a surprising novelty. If with the Marvel we could enjoy hands-free calls, audio playback or the use of assistants such as Siri, now we can do all these actions by means of two small touches in the upper area of our ear. In this way we gain comfort since we do not have to grope for the hearing aid button or take the mobile phone out of the pocket to perform these actions. It seems almost science fiction.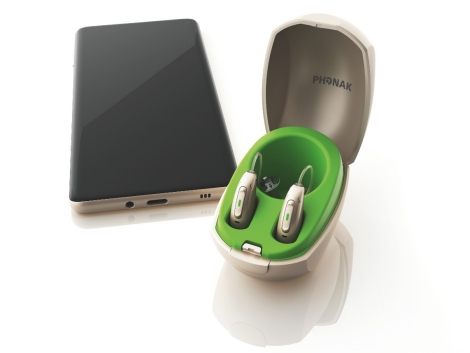 And since we are talking about connectivity, this new generation of Phonak hearing aids not only maintains the Bluetooth connection, either with Android or IOS, but also extends it allowing you to pair them with up to eight different devices, from mobile phones to computers. In addition, you can be connected simultaneously with two at the same time, which means that you do not have to connect and disconnect the Bluetooth of your devices to switch from one to the other. On the other hand, Phonak continues to continually improve the programming software of the professionals so that we can offer you a seamless experience of teleaudiology, thus demonstrating its clear commitment to the future (already present) of remote audiology.
With all these novelties, plus everything previously achieved, Phonak manages to present to the market a cutting-edge hearing aid that marks the way forward in the future of audiology: connectivity, user decision-making power and technology applied to better user hearing. Who knows, maybe hearing paradise is a lot more earthy than we thought.