Discover the new ReSound ONE BTE hearing aids


It's been a while since ReSound launched its revolutionary ONE hearing aids. These hearing aids were small, modern and very technologically advanced. The pity is that its virtues could only be enjoyed in RIC format, the type of hearing aid that goes behind the ear and has a cable that is inserted into the ear. Fortunately, ReSound has adapted its enhancements to the BTE style of hearing aid, allowing it to offer ONE technology to people who need a little extra power or have trouble handling a hearing aid. In addition, forgetting about batteries since it is an exclusively rechargeable model. Thanks to ReSound ONE BTE, more people will be able to enjoy all its benefits.
Getting closer to reality
ReSound is a manufacturer that has always been focused on achieving the most organic hearing possible, but not only from the point of view of sound realism, sound quality, but also regarding how our brain works when we listen. To do this, the ONE BTE present a new operating method for their microphones: All Access Directionality. This system allows them to adapt to the different sound environments that one can find in their day to day, allowing the user to understand speech well without giving up the ambient sound that surrounds him. In this way, the user feels comfortable in conversations but is fully aware of where he is.
Prepared for the toughest environments
Apart from its All Access Directionality, the ReSound ONE BTE also inherits the Ultra Focus mode of its predecessors in RIC format. This mode directs its microphones directly in front of the user, focusing mainly on sounds related to speech. In this way, excellent speech clarity is achieved in one-to-one conversations with another person. This little extra is especially suitable for extremely noisy environments or for people with special difficulty in understanding what they are told. The user only has to activate it through the ReSound Smart 3D control application or the button of the hearing aid itself and they will hear the speaker's speech in a much clearer way.
The most stable connectivity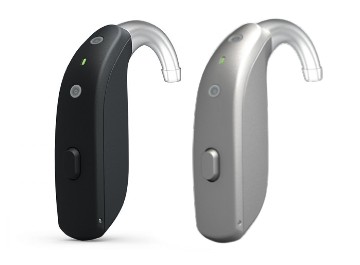 Result of a close collaboration between ReSound and Apple, the new ONE BTEs offer the most reliable Bluetooth connectivity through the specialized protocol ASHA for hearing aids. If the user has an iPhone 11 or higher, they can connect to their mobile to use them as hands-free for calls. If you have another iPhone (or certain Android models), you will use them as wireless headphones with your mobile, either to listen to calls, play videos on WhatsApp, listen to Spotify... In addition, this communication with the mobile allows you to control some parameters of the hearing aids through an app called Resound Smart 3D. With it, you can raise or lower the volume, change the program, choose between different specific configurations... And not only that, since it also allows the audiologist to make changes to the programming remotely, without the user having to visit the center in person. In other words, they allow you to get the most out of hearing aids thanks to the increasingly important teleaudiology.
As you can see, these new ONE BTEs follow in the footsteps of their predecessors and give you hearing as organic as possible. ReSound continues to work tirelessly to ensure that even if you are a hearing aid user, you can enjoy realistic, close-to-life sound. After all, as we also seek at Claso, to ensure that your hearing loss is not an obstacle to fully enjoying life.