What is teleaudiology?

Posted By
21 May 2020
0 Comment(s)
5496 View(s)
Services

Throughout its history, audiology has always been a fully face-to-face activity. This implied that, whenever the patient needed the services of an audiologist, he had to go to the hearing centre to be treated. So the patient had to do their part to enjoy good hearing with multiple shifts and a great investment of time in several appointments. In addition, these problems were amplified when the patient suffered from some ailment or physical impairment. Audiologists tried to mitigate these problems with telephone attention, for example, but in many cases it was not enough and we ended up making the patient come to the centre. All this was happening for one reason only: the technical limitations imposed by hearing aids. This led to a serious problem: many people were left without listening correctly to avoid all these discomforts. But now, thanks to teleaudiology, all this is part of the past.

What is teleaudiology? You may be wondering that it is nothing more than being able to offer almost all the services related to hearing aids remotely without needing the physical presence of the patient in a hearing center. And all this with only one requirement: own a mobile phone or tablet with internet connection. With this innovative method, you can make a live video call with your audiologist, fully comparable to a face-to-face appointment, in addition to communicate directly as if we were in front of each other, current technology allows us to make the appropriate changes in the programming of your hearing aids remotely and in real time. We can apply changes and receive your impressions instantly in a natural way.
All these advantages are reflected in practice in the following remote services that Claso audiologists can perform, thus avoiding trips: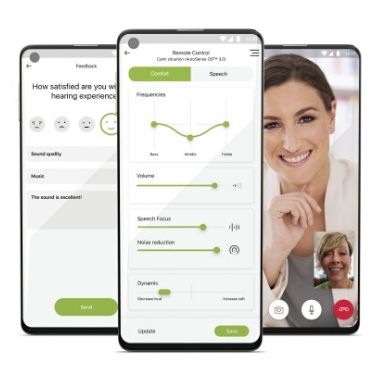 Reprogramming according to the needs that arise.
Solving the doubts that concern you.
Carrying out repairs remotely.
Getting here has not been an easy process. For some time, major hearing aid brands, such as Phonak and Resound, have invested heavily in R&D to achieve this goal step-by-step. At the beginning we could only do reprogramming remotely but with many limitations that prevented us from covering all possible situations. At that time we were only beginning to glimpse the future but now we can already consider that the future has arrived. Finally, hearing aid manufacturers have managed to expand the technical possibilities of these services and allow us to do certain previously unpublished technical tests online that limited us.
From now on, Claso audiologists will be pioneers in Spain in being able to assist you remotely in a good part of your coexistence with your hearing aids almost from the first moment, something unprecedented until now. We hope you will join us on this exciting journey to a new and improved reality that will change the history of hearing aids and the way we use them.