Discover the new Bernafon Alpha XT Hearing Aids


Two years ago, Bernafon launched its successful Alpha hearing aids on the market. With them, he introduced us to a new audiological concept called Hybrid Technology that was based on combining four different sound processing systems that in turn had two sublevels. In this way, it combined all these multilevel systems depending on the sound environment in which you were to get the best performance from your hearing. This allowed them to give you a very realistic and natural sound where speech understanding, comfort and ambient sound lived in balance. Now, Bernafon presents its new Alpha XT hearing aids that perfect and improve this way of dealing with sound treatment.

Raising the level
The new Alpha XT hearing aids add a fifth level to its successful Hybrid Technology with the clear objective of improving user comfort. This new system has been named Sound Care and protects the user from certain annoying sounds that can be caused by directly physical causes. On the one hand, it considerably reduces the noise generated by the wind hitting the microphones of the hearing aids. On the other hand, it also reduces the noise that can be generated by the contact of the microphones with, for example, hair or the temples of glasses.

As well as adding a whole layer of processing, they've also improved their previous system for handling ambient noise. Beyond the excellent features it already had, the Alpha XT have improved the way they reduce transient noise. We use this last term to refer to sounds that happen suddenly and at a high volume. To give some understandable examples, a slamming door would fall into this category, a heavy object falling to the floor, the dishes hitting each other in the sink when we wash them... Now, the new Bernafon hearing aids reduce these transient noises by up to 30 decibels and detected much faster.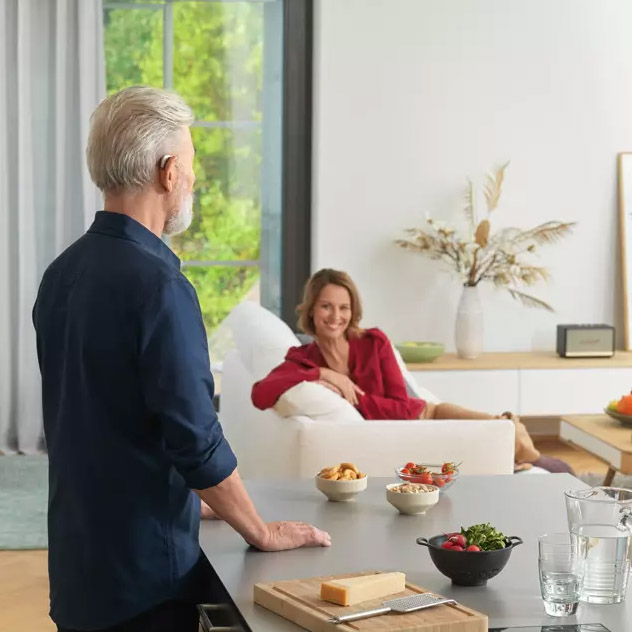 Finally, the Alpha XT also achieves a better balance between speech and environment to ensure that you enjoy the best understanding of the conversation. Now, Bernafon hearing aids learn automatically through your use as they monitor the environment around you, as well as your participation in conversations throughout the day, either actively or passively.
Life without wires
Beyond its purely audiological operation, the Alpha XT hearing aids provide us with the always excellent wireless connectivity of the Bernafon brand thanks to its 2.4 GHz Bluetooth. These hearing aids are designed to be used as hands-free headphones from iPhone 11 or to function as wireless headphones with older iPhones and Android phones that support ASHA (Audio Streaming for Hearing Aids) technology. In addition to this direct connection to mobile phones, Bernafon also offers you its wide range of accessories that allow you to easily enjoy a life without cables. Thus, you can connect your hearing aids to the television thanks to the TV-A transmitter, make small changes with the RC-A remote control or enjoy the versatility of its SoundClip-A, with which you can connect as hands-free with mobile phones that are not compatible with the direct connection or use it as a microphone for distance. Also, like its predecessors, Alpha hearing aids are compatible with Cros systems.
More control in the palm of your hand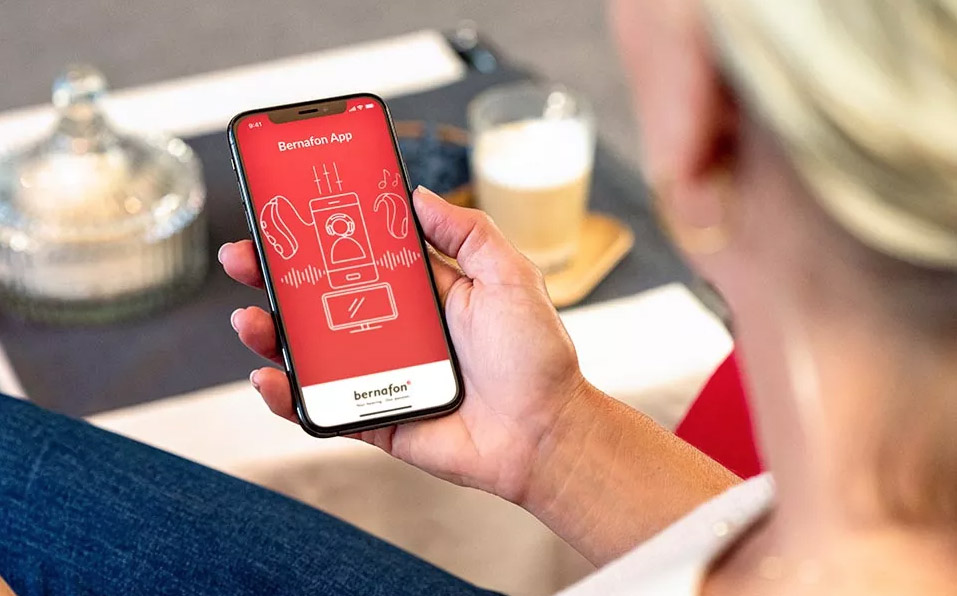 Along with these new hearing aids, the manufacturer is also presenting its new Bernafon App mobile application that unifies several previous applications and expands them. On the one hand, it works as a remote control for your hearing aids, being able to make small momentary changes in your programming. With it, you can change the volume, the program you are using, the level of noise reduction, control the accessories... On the other hand, it also allows you to connect with your audiologist remotely and thus enjoy remote adjustment sessions in real time in which your hearing care professional will retouch the programming while talking to you through a video call. You simply enjoy an adjustment session without having to go to your hearing center in person.
As you can see, the new Alpha XT hearing aids are a significant improvement on the previous generation of Bernafon hearing aids. Available in RITE or BTE models, either battery-powered or rechargeable, these hearing aids adapt to all kinds of users and lifestyles, providing you with a totally personalized solution to your hearing loss. Don't miss a thing with Alpha XT!