Why do we like Phonak hearing aids?

When we refer to one of Claso's favorite brands, it is very likely that we are talking about Phonak. Having them in our product catalog is synonymous with peace of mind. And we know that a brand that wants its users not to miss the sound of life is a safe bet in our hearing centers.
Our love affair with Phonak was to be expected. Their evolution and growth in recent years has been at a much higher rate, and they have always been able to adapt to all types of hearing loss, from mild to profound. In addition, their designs seem to be custom-made, always thinking about the needs of each person. We, who are by your side and accompany you at all times, know that choosing Phonak is choosing the best option.

In addition, they are pioneers in many aspects, such as wireless technology and that is why they have developed a wide range of accessories that improve the performance of their hearing aids and allow communication in any circumstance.
Today we want to tell you about Audéo Paradise, and explain some of its features. Afterwards, we will do a brief review of other Phonak models.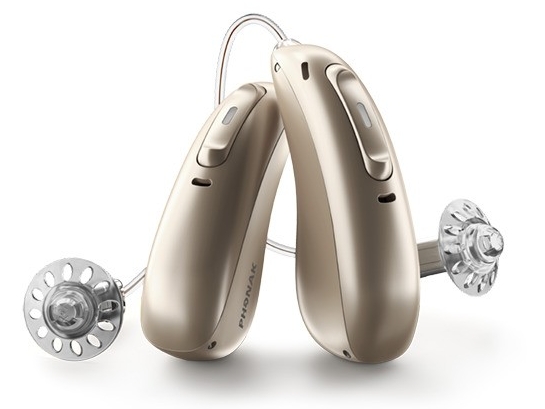 The world of hearing is full of challenges and brands like Phonak are ambitious. They show it every time they launch a product to improve people's quality of life. But what is the goal of Audéo Paradise? Provide you with a natural and clear sound, the one you deserve to hear. With this model, when someone speaks to you in a low voice or at a distance in a quiet environment, thanks to its Speech Enhancer, you can enjoy that conversation without any problem. Plus, with Dynamic Noise Canceller, you can customize the amount of noise cancellation you want in real time, all through the myPhonak app.

This dynamic noise cancellation is a new noise suppression system that allows Phonak hearing aids to perform even better in noisy situations.
You can configure this feature with your hearing care professional. It can also be activated, decreased and increased from your application. On the other hand, Phonak also incorporates motion sensors in its hearing aids. Understanding the actual movement of the user leads to better function management decisions being made at the processor when the user is on the move.

Of course, you can answer phone calls, stream or pause music, and activate voice assistants just by touching your ear. A Phonak Paradise motion sensor makes all of that and more possible effortlessly. Its microphones allow you to make authentic hands-free calls and the activation of the voice assistant.

According to Phonak, with a fully charged battery, it should be able to offer 16 hours of use based on 8 hours of listening, 4 hours of streaming audio via classic Bluetooth, and 4 hours of streaming from the TV Connector.
Of course, at the moment, there is still no system with loads on board like other brands. Even so, the mini charger model that Phonak offers is very small despite needing to be plugged in.

Is the Audéo Paradise from Phonak the best hearing aid around?
Asking this question is difficult because there are too many variables in the patient's needs. But if we can put it another way, is Paradise the best hearing aid for you? And for this, at Claso we can help you discover it.

What other Phonak hearing aids can you find in Claso?
Virto M90 312 Hearing Aid: From the moment you put on Marvel hearing aids for the first time, you already notice unmatched sound quality. This Phonak intra hearing aid automatically adapts precisely to more listening environments than ever before. It is characterized by:

Exceptional sound right out of the box
Better understanding of speech in noise
Reduced effort in noisy environments
Better streaming sound quality
It can be directly connected to iOS, Android phones or other Bluetooth® compatible phones. With the simple and ready-to-use TV Connector accessory, you can access any audio system that does not have Bluetooth®, including television. In addition, thanks to this technology, they can benefit from remote adjustments at a distance.

Now it has 10% with what its current price is € 1,952.10 and includes the adaptation and programming to suit you.

Vitus P hearing aid: Although it corresponds to the entry level of technology of the Phonak Belong platform, we want to highlight it in this article because it offers powerful features at an economical price. It is now available for € 599. Directional microphones are one of the main factors that help improve understanding. By manually activating the UltraZoom function, you will achieve greater speech understanding in difficult noisy environments. In addition, thanks to their materials, they are resistant to water and dust.

At Claso we have Phonak's new Vitus basic range, hearing aids of the highest quality at an affordable price.

Hearing aids for the little ones
For more than 4 decades, Phonak has been dedicated to understanding the needs of children with hearing loss, enabling them to develop truly innovative and intuitive solutions that meet their specific listening needs.

Sky Marvel models feature AutoSense Sky OS, the first operating system designed specifically for pediatric hearing aids. It adapts to any environment and, in this way, your child will better understand the word in noise, whether in noisy classrooms or in playground hours full of adventure. It also includes the new version of SoundRecover2 technology that is a huge improvement and helps the child to hear apparently inaudible sounds in the most natural way possible and thus have to make less auditory effort in their daily life so that they can concentrate on what matters most.

Another of the main novelties of this pediatric model is its wide connectivity capacity. It has improved Roger connectivity and also has the advantages of the Bluetooth connectivity of adult hearing aids, being able to enjoy streaming sound and free calls, either with Android or IOS.

In addition, in the PR version, it is a rechargeable hearing aid that lets you know that your child will not be left without listening at any time of the day.
Hearing aids that are synonymous with Premium for deep loss
With a 10% discount, its current price is € 1,952.10
This new generation of Phonak technology automatically recognizes and accurately adapts to more listening environments. With AutoSense OS ™ 3.0 and Binaural VoiceStream ™ technology on all models, you can enjoy better understanding of speech in noise and less listening effort in your daily life. All this with the Bluetooth and Roger connectivity possibilities that Phonak hearing aids bring you, including remote adjustments.

Connectivity with everything, of course, also with smartphones: iOS and Androidmh
The headphones can be used as a wireless stereo headset, including hands-free calling.
Convenient remote video support in real time with your hearing care professional.
Do you want to know more about one of the leading brands in audiology? We tell you more details: In this article
These are just some of the Phonak hearing aids that you can find in Claso but, as it is one of the brands that we like the most, we can offer you many more proposals and also, with a price saving that does not influence either its performance or its quality.

But first, we want to get to know you to find out what you need in your day-to-day life and find the best formula so that you don't miss the most wonderful sound: that of life.