What types of hearing aids are there?

Posted By
03 Aug 2021
0 Comment(s)
14529 View(s)
Hearing aids

If you have been diagnosed with hearing loss, you may still be adjusting to this new situation. Take your time and try to do it as naturally as possible because at this stage, you don't have to miss a single day of your life.
Now more than ever, it is important to be advised and to know that you have a professional by your side. Overcoming this adaptation period successfully is easy if you receive quality information to make the right decisions.
Book your appointment and we will perform a free hearing test to assess your hearing and advise you on the best solution for you.
In the meantime, so you can start to learn more about the latest in hearing aids, we have compiled some of the most outstanding models that you will find in Claso. They are different brands so you can compare what each one offers you, but as always, if you have any doubts, contact us to solve them.
What is the type of hearing aid you need?
Knowing which is the right hearing aid for each person is a task that a professional will know how to perform. However, if you want to have a first approximation, we present you some models of the 5 main types of hearing aids. We want to make the process of choosing more bearable because really, it can be as easy as you would like it to be.
Receiver-in-canal (RIC) hearing aids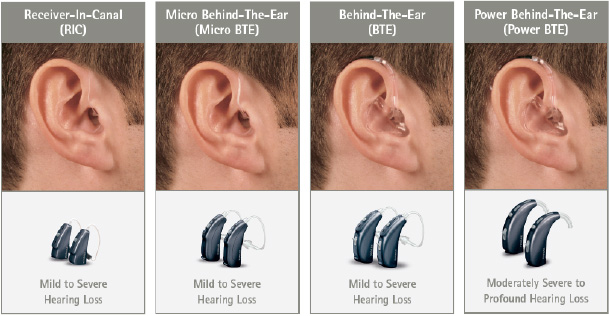 These hearing aids are very discreet at an aesthetic level since they have the sound outlet inside the ear canal while the rest of the mechanism is outside, so their only visible part is the small plastic thread that connects both elements of the hearing aid. They are also quite comfortable: the small tip that sits at the entrance of the ear canal fits well without sticking.
Receiver-in-canal hearing aids are recommended for people with mild to severe hearing loss, but not for people with severe to profound hearing loss because their small size limits their power and volume.
If you decide for this type of hearing aids you must take into account that they require manual dexterity to place them well since the receiver, as we have said, is located at the end of a thin and small plastic tube, so to place it well you need practice.
Some of the RIC models that may interest you are:
Audéo Paradise
This is one of Phonak's catalog options, a RIC hearing aid with all-new hardware that takes hearing performance to the next level. All this, including several features to make your day-to-day life easier and more comfortable. The speech emphasizer is one of them, which increases the level of softer or quieter words so you can enjoy conversations with friends, colleagues and loved ones.
Phonak Paradise connects directly to your iOS®, Android™ phone or other Bluetooth®-enabled devices in order to stream excellent quality audio to your hearing aids.
To perfect the experience, Paradise partners with RogerDirect™ technology, allowing Roger microphones to stream directly to Paradise hearing aids without the need for an external receiver. So you can fully participate in conversations even in noisy places like restaurants or corporate events.
Alpha
With Alpha, you'll notice the benefits of new Hybrid Technology™. You'll feel cleaner-sounding speech, your ability to understand conversation will increase, and you won't lose awareness of the ambient sounds around you. Plus, you'll enjoy unmatched sound quality and unparalleled listening comfort. All without any annoying whistling thanks to 126,000 measurements per second.
Did you know that Bernafon Alpha hearing aids are inspired by animals with exceptional hearing? Its operation is similar to a hybrid car, where the various processing levels of this advanced technology can act independently or together to achieve the right balance.
Adjust the volume, change your listening program, find your hearing instruments and check their battery status...Thanks to the Bernafon EasyControl-A app you control your hearing instruments with ease.
ONE
Resound's goal with this rechargeable hearing aid was to achieve a more realistic sense of space and to offer the most natural sound quality. A goal they have met thanks to an innovative design with in-ear microphone and earpiece.
Another feature is full directionality, which automatically adjusts to each person's hearing patterns, so you can feel comfortable and interact effortlessly with others. Even in the noisiest and most complex listening situations, ONE makes you focus on what's important and hear the world with your own ears.
Want to know more about other Receiver-In-Canal (RIC) models? Click here and remember that you can contact us for personalized advice.

Behind-The-Ear (BTE) hearing aids
This type of hearing aid consists of a hard plastic case worn behind the ear and connected to a custom earmold on the outer ear. The electronic parts are kept in the case behind the ear. Sound travels from the hearing aid to the ear through the plastic tubing and the earmold.
Behind-the-ear hearing aids are generally the largest and most powerful hearing aids, making them ideal for people with all types of moderate to profound hearing loss.
However, they are less discreet than other models (RICs, for example). Even so, you should keep in mind that advances are making them less and less visible. In addition, because of their size, they are easier to fit and clean, so they are recommended for people with excessive earwax.
Some of the BTE models you may be interested in are:
Naida Paradise
With a long history focused on benefiting users with severe to profound hearing loss, it is one of Phonak's most powerful hearing aids. It stands out for three reasons: powerful sound, universal connectivity and customized digital solutions. Naída Paradise, with new hardware and improved software, meets the hearing needs of users of powerful hearing aids in countless sound environments.
Some of the features include a speech emphasizer, dynamic noise cancellation and a motion sensor. Naída Paradise is recommended for its ability to adapt to the way you communicate with others and to your lifestyle, while providing powerful, clear sound so you can enjoy the wonders of the world as they were meant to be heard.
Enzo Q
If you're looking for a hearing aid that can keep up with you, Resound ENZO Q adapts to any situation, from a quiet place like your home to a noisy environment like a restaurant.
Recommended for severe and profound hearing loss, it's built with the latest technology so you can enjoy clear, comfortable sound, plus more connectivity and support options.
Because sound clarity is so important, you can customize your hearing experience to suit your preferences. Feel comfortable knowing that there will be no whistling or squealing even when your hearing aid volume is turned up.
In addition, according to studies ReSound has conducted, in the noisiest places, people with severe to profound hearing loss experience an average 60% improvement with their technology in recognizing speech in front of them. A technology that also eliminates loud and discordant sounds, up to 89% of them.
Discover here other Behind-The-Ear (BTE) Hearing Aids and remember that you can always contact us for personalized advice.
BOOK YOUR APPOINTMENT AND HAVE YOUR HEARING EVALUATED WITH US.
If you already know you want one of these two types of hearing aids, just contact us. It's easy: after listening to you and getting to know you better, we will perform a free hearing test to recommend the best solution for you.
In a few days, you will be able to enjoy the sound of life at its best.
Call us at 93 317 65 50 and tell us what you need.
Intra Hearing Aids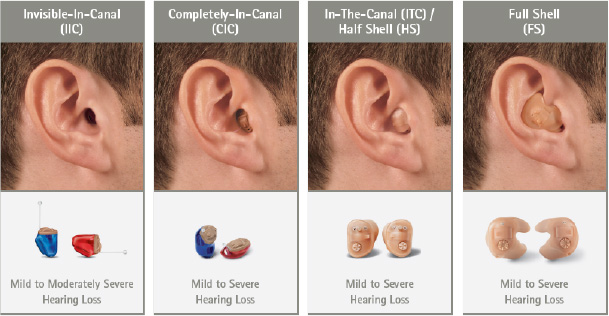 These hearing aids are placed inside the ear canal; their casing is custom-made, since the entire mechanism must fit correctly in each person's ear.
They are indicated for people with moderate to severe hearing loss. Their main strength is that they are the most aesthetically discreet, since they are in-the-ear and are barely noticeable from the outside.
However, in-the-ear hearing aids, as a general rule, can give a feeling of occlusion, i.e. the sensation of having a blocked ear.
If you do not have problems with bass sounds, we recommend that you opt for a RIC format. In addition, in-the-ear hearing systems are highly conditioned to the anatomy and size of the ear. Some of its elements, such as the connectivity coil or powerful earphones, require a certain space in the ear canal, so if it is too small this may result in an increase in the size of the hearing aid, with its consequent aesthetic impact.
Some of the Intra models you may be interested in are:
Virto Marvel
When you first put on a pair of Marvel hearing aids, you'll notice unparalleled sound quality. Why? This new generation of custom Phonak technology automatically recognizes and accurately adapts to more sound environments than ever before.
Each hearing aid is unique in the world because it is based entirely on the physical characteristics of your own ear. Thanks to the precise biometric calibration of 1600 exact points, the Virto Marvel achieves a perfect fit, giving you a high degree of wearing comfort.
In addition, these measurements reduce their size to a minimum, allowing you to enjoy a slim and discreet aesthetic. Virto Marvel headphones give you comfort and self-confidence.
Some models, such as the Virto M-312 headphones, can connect directly to iOS or Android smartphones or other Bluetooth® compatible devices.
Zerena
The perfect choice for those looking for hearing instruments that are easy to use and fully automatic in most situations, without sacrificing a high level of hearing comfort. With Zerena, sounds are amplified naturally and with high accuracy with automatic focus on speech in noisy environments.
Bernafon's patented technology is based on a continuous analysis of the acoustic soundstage, resulting in a continuous response to active and changing environments.
In addition, they fit so deeply in the ear canal that they are almost invisible, but you can also choose from a diverse palette of colors to match and enhance their discreetness.
Linx Quattro CIC
ReSound wanted to offer a premium hearing experience and thanks to these hearing aids, it is now possible to enjoy it. As such, it is considered the world's most advanced rechargeable solution.
LiNX emulates the natural ear to make speech seem clearer, giving you richer, more vibrant sound. And with the advantage of 360-degree hearing, you can concentrate on what you want without being cut off from your surroundings. Extremely discreet and small in size, it's no exaggeration to say it's almost invisible.
And as with all hearing aids from this brand, with the ReSound Smart 3D app you have complete control to quickly and discreetly customize the details of your hearing experience.
Find other Intra hearing aids here and remember you can always contact us for personalized advice.

Rechargeable Headphones
One of the main elements to take into account when choosing a hearing aid is its autonomy capacity since it conditions how you will have to manage the time of use or be aware of buying batteries.
The most important element of these rechargeable hearing aids is the battery. Made of lithium-ion, this material has a great capacity to store energy, far above the materials with which hearing aid batteries were made until recently. The hearing aid batteries are very small and their consumption is quite low; in a charge of just 3 hours you can last a whole day without having to recharge. In addition, batteries made of this material rarely break down before 6 years of use.
It is important to note that there are no differences in terms of hearing improvement between the two types of hearing aids, however, the rechargeable ones have other particular characteristics regarding their use:
You won't have to worry about changing batteries.
In some devices the battery change is complex, however, to recharge the battery of the hearing aids you only have to place it in its charger case, which is quite simple and for people who either do not have time or reduced mobility this simplifies the process a lot.
In some models you can control the battery percentage through an app on your smartphone, which will help you to control the remaining time and make the most of the battery.
You contribute to reduce pollution. As we already know, batteries are pollutants and are not always recycled correctly. If we take into account that hearing aids are devices that we must use continuously, it is an expense of batteries for a long time that we can save.
Some of the RIC models you may be interested in are:
Key 4 R
Premium functionalities to essential hearing aids. This is the approach for you to enjoy excellent sound quality and clarity. Based on ReSound's organic hearing philosophy, they emulate the natural hearing experience so you can hear speech more clearly and locate sounds more easily.
If anything, the ReSound Key is the most reliable rechargeable hearing aid thanks to its excellent battery and state-of-the-art desktop charger. With a fully sealed, small, discreet and long-lasting lithium-ion battery, you can rely on your hearing aids for up to 30 hours. At night, simply place the hearing aids in the inductive charger, without worrying about their contacts, to prepare them for the next day.

Alpha 9 miniRITE T R
Want to see more rechargeables? Enter here and remember that you can always contact us for personalized advice.

Pediatric Hearing Aids
If in adults it is already difficult to choose the ideal hearing aid for each person, in children it is more complex: on the one hand because of the difficulties to detect the ailment and on the other hand because it must be adapted to each stage of their growth.
It is also important that pediatric hearing aids are comfortable to wear and use so that the child can get used to them, especially considering that there are ailments that may mean that he or she will have to wear them for years. In short, choosing hearing aids at this stage of their life is a delicate process that needs a professional.
What models of pediatric hearing aids do we recommend?
Sky Marvel
Thinking of the little ones, Phonak has created this category of hearing aids that will withstand the energetic days they live. Its design is compact and robust to withstand any kind of unforeseen event. On the other hand, given the curiosity of childhood, its battery holder is designed to prevent children from mishandling it or swallowing the batteries. In addition, you can see at a glance if your Sky Marvel is working thanks to its indicator lights.
With AutoSense Sky OS, the first operating system designed specifically for pediatric hearing aids, your child will understand speech in noise better, whether in noisy classrooms or adventure-filled playground hours, and will have to put less listening effort into their daily life so they can focus on what matters most.
UP Smart
ReSound Up Smart™ is a new type of hearing aid with Smart Hearing technology that adapts to every child. So they leave nothing undiscovered, they deliver consistent, clear and comfortable audibility and sound, in all listening situations.Because every hour of the day is an opportunity for your child to listen and learn. That's why the more access they have to speech sounds, the better.
Moreover, the ReSound Smart app gives you discreet control over your child's hearing aids. You can start or stop the sound transmitters, check the status of the hearing aid and switch programs. Even with geotagging you can map out how you want their life to sound at school, at their favorite cafeteria, the sports hall or at home. And, most comforting of all, you can locate lost hearing aids with the "Finder" function.
LEOX
It is the first Super Power - Ultra Power hearing aid with True Environment Processing ™ for severe and profound hearing loss. Recommended for babies, children and teenagers to live every day with spontaneity and naturalness. It stands out for its exceptional high amplification power to provide a sound perception as close to reality as possible. However, we do not want to forget another of its strengths_ how it helps children during language development to achieve their educational goals.
In addition, choosing Bernafon Leox means choosing safety. If there's one thing we know, it's that all hearing aids are rigorously tested in their own quality control laboratories to resist moisture, heat, drops, rust, as well as other hazards that could damage the system. And this, in the case of children, is especially important.
That's why Leox is one of the most powerful pediatric hearing aids on the market.
Fun, easy to use and ready for their busy days. That's what pediatric hearing aids are all about. Come and see us and we will find the best model for the kings of the house.
At Claso you will find hearing aids of all kinds, which will adapt to your needs according to their specifications, design and technical characteristics. Don't wait any longer, make your appointment at Claso totally free and we will make a complete study of your hearing in order to advise you on your degree of loss and which hearing aids are best suited for you.
BOOK YOUR APPOINTMENT AND EVALUATE YOUR HEARING WITH US
Not sure what type of hearing aid you need?
At Claso, we make it easy: come see us to get to know us better, perform a free hearing test and recommend the best solution for you.
In a few days, you will be able to enjoy the sound of life at its best.
Call us at 93 317 65 50 and tell us what you need.